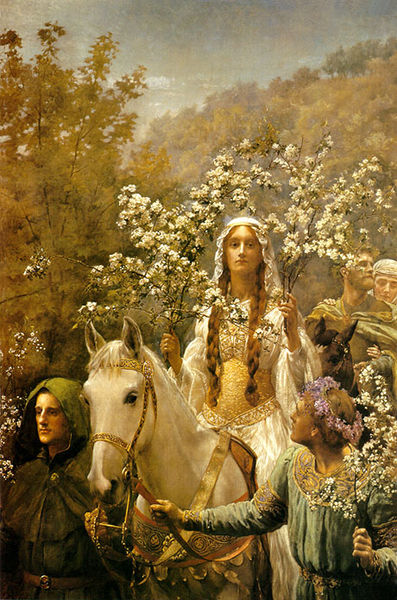 Is Easter really a Christian tradition?
Around March 21st marks the vernal Equinox. Half way between the Wheel of the year, it sits in perfect balance.. Night and Day are in equilibrium and the world is coming back to life.
​
Mordern day Heathen customs associated especially with Ostara's feast include the painting and hunting of Easter eggs, which, according to German tradition, were brought or laid by the 'Easter Hare'. The Hare was the holy beast of Ostara, slain and eaten only at her blessing. In Germany, bakeries sell hare-shaped cakes at this time of year. Fires were also kindled on the hilltops at dawn, especially in Germany. Another common folk-custom which still survives in rural areas is the performance of plays at which Summer battles with Winter and drives him out, or at which an effigy embodying Winter is beaten, burned, or drowned.
Ostara is mentioned only once in scholarly writings of the period - Bede the monk states that during Eostremonath (the old Anglo-Saxon names for April), the pagan Anglo-Saxons help festivals in her honor. (Two hundred years later in Germany, in his
Life of Charlemagne
, a monk named Einhard gives the old name for April as Ostaramonath.) She is also mentioned in a number of inscriptions in Germany, and the modern holiday of Easter - originally the name for the spring Equinox, but later subsumed to the Paschal calendar for the Christian resurrection holiday - is named for her. The name "Eostre" (Old Germanic "Ostara"), is related to that of Eos, the Greek goddess of dawn, and both can be traced back to a Proto-Indo-European goddess of dawn. However, according to Christianity Today, Ronald Hutton, professor of medieval history at Oxford, argues this interpretation is not to be trusted. "It falls into a category of interpretations which Bede admitted to be his own, rather than generally agreed or proven fact," he says.
"Bede depicted at St. Bede's school, Chennai."
​
A more recent and complex explanation comes from the Christian background of Easter rather than the pagan. The early Latin name for the week of Easter was
hebdomada alba
or "white week," while the Sunday after Easter day was called
dominica in albis
from the white robes of those who had been newly baptized. The word
alba
is Latin both for
white
and
dawn
. People speaking Old High German made a mistake in their translation and used a plural word for
dawn, ostarun,
instead of a plural for white. From
ostarun
we get the German
Ostern
and the English
Easter.
In Jacob Grimm's
Deutsche Mythologie
, he states the idea of resurrection was ingrained within the celebration of Ostara: "Ostara, Eástre seems therefore to have been the divinity of the radiant dawn, of upspringing light, a spectacle that brings joy and blessing.
an exerp from the ratonalwiki.org..
The Easter Bunny enters history in the year 1682, when an Alsatian German professor at the University of Strasbourg, Georg Franck von Frankenau, wrote Disputatio ordinaria disquiriens de ovis paschalibus, a macaronic Latin-German essay about Easter eggs that no doubt seemed very clever at the time (and rose to #4 on the New York Times bestseller list for 1682.)

Notwithstanding the fact that the rabbit's association with Easter appears first in Alsace in the seventeenth century, various nineteenth century folklorists and their followers just knew that the Easter Bunny had to be a "pagan survival". The usual reasoning process to arrive at this conclusion was given an unusually frank treatment in Holtzmann's German Mythology: "The Easter Hare is unintelligible to me, but probably the hare was the sacred animal of Ostara". The existence of the alleged goddess Ostara is likewise dubious.
Some scholars have further linked customs and imagery involving hares to both Ēostre and the Norse Goddess Freyja.
Wakipedia.org, on Ostre..
While it seems to me the reason for the season is legitimate . However, the traditions we see held dear in the modern age cemented the memory of a culture they more or less wanted eradicated and corrupted our history, it amazes me very few people bother to learn.
​
It is around this time Christians are essentially celebrating the resurrection of Christ and children excitedly wait for the Easter bunny to arrive and deliver their sugary decorated chocolate eggs. It should be noted however, bunnies are not associated with Christianity in every country.. eggs are delivered by a cuckoo in Switzerland and a fox in parts of Germany. Looking up Easter in Biblical studies reveal no clear answers as everyone claims the association of eggs with Easter is uncertain other than that sources say people ate dyed eggs at spring festivals in Ancient Egypt, Persia, Greece, and Rome.
Is Ishtar the Babylonian Equivalent?
A question that's been on my mind for some time, I can certainly see parallels within our Ancient mythologies, such as the Norse Myth of Odin's son Baldr, his brother Hermodr, rode to the netherworld and convinced the Queen of the Underworld, Hel, to release Baldr, just as Aphrodite went down to get her lover Adonis from Persephone and how Orpheus went down to get his wife Eurydice. Hel agreed to let Baldr return if every creature in the world wept of him, just as the Akkadian goddess Belili (Geshtinanna) tries to raise her brother Tammuz by getting all the women to weep for him. The Norse Gods get everyone to weep for Baldr except for a female giant named Pokk, which turns out to be Loki in disguise, and so Baldr does not return.
​
In 1973 founder of the "Church of the Great God" Mr. Herbert W. Armstrong, wrote an article explaining;
The Resurrection was not on Easter Sunday! Easter is not a Christian name, but the title of the idolatrous "queen of heaven." Here's an explanation of the true origin and meaning of Lent, Easter eggs, and sunrise services!
the church's publication you can read here:
The Plain Truth About Easter.
In March 2018 a Researcher going by the name Truthsnitch.org claimed his family had been enlightened by Mr Armstrong while attending church mass, his website states..

The entire argument centers around linking a presumed observance of a holiday in honor of Ishtar (who they describe as an ancient sex and fertility goddess) to modern day Easter celebrations by way of similarities. The most important similarities being a) the name; b) eggs; and c) bunnies. For good measure, they tack Constantine onto the end as the villain who is responsible for corrupting Christendom with this celebration.
Here you can read his article,
So You Think Easter Is Pagan Part 1: Ishtar, Eostre, Eggs, and Bunnies.
He goes on quite the in depth fact checking spree.
This is an onging research subject, thanks for taking the time to read.
Last edited: