Active member
Trusted Member
Joined

Oct 5, 2020
Messages

53
Reaction score

241
Many times it is necessary to see beyond what the official history tells us ...
Chronology...
The last time
the flag of Tartary
was seen in an atlas of nations was in 1865
Flags of all nations 1865
​
In this atlas by
Colton, J. H. 1865
... In the America zone, we still have the Confederates and that flag called Quarantine catches my attention. In it, Tartaria has already disappeared and we only have china, click on the link to David Rumsay's library.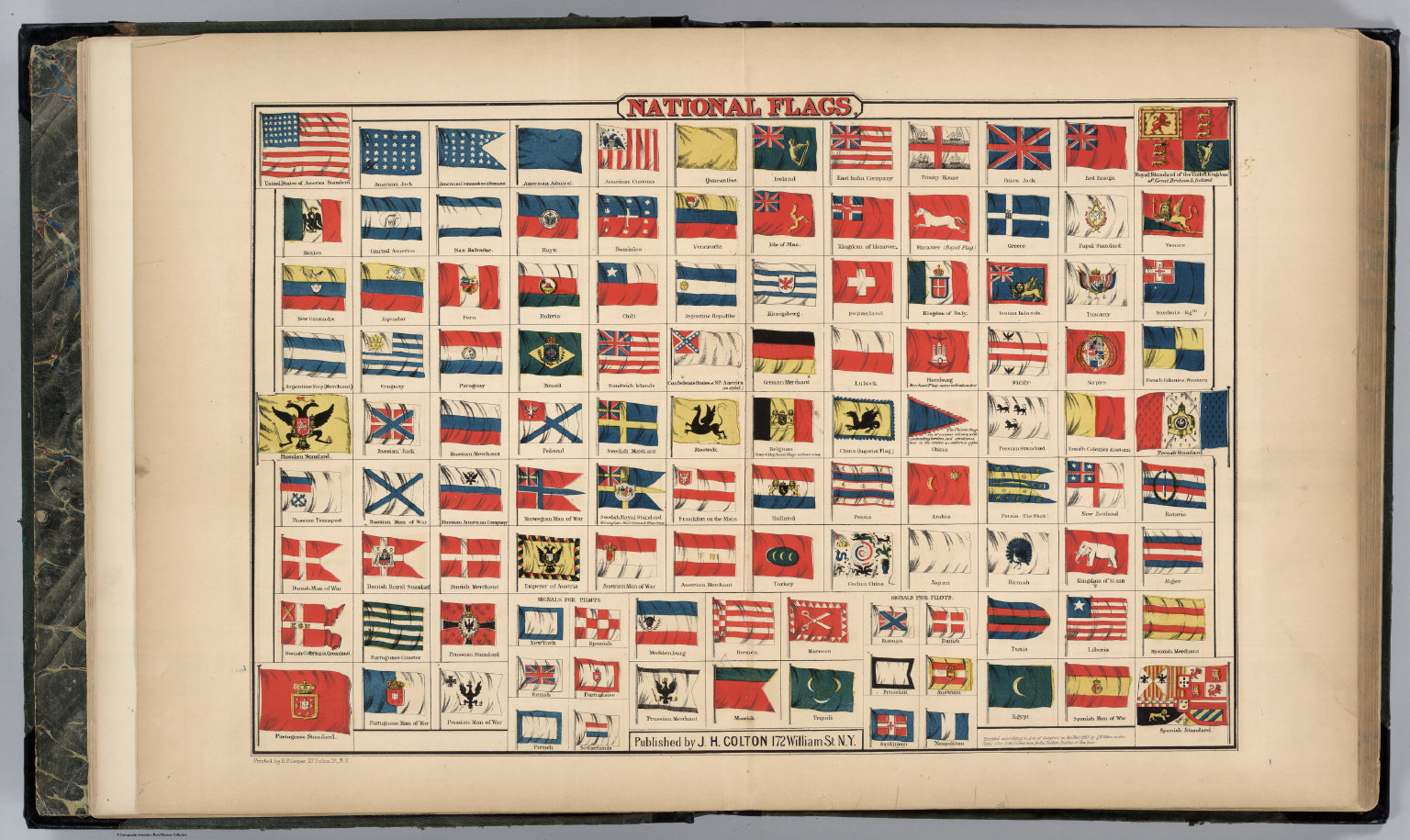 Has letter from J.H. Colton to his Pastor tipped in. Phillips shows 1860 and 1864 editions, with none in between. Colton might not have published the General Atlas in this period because of the Family Atlas collaboration with Johnson (just saw an 1862 & 1863 listed in World - Brit Museum, but...
Long ago, we have this atlas of Homann,
Johann Baptist, 1663-1724
Flags of nations 1716
​
This 12 cm thick volume has a regular title page, handwritten table of contents, and introductory 42 page text in Gothic German. The decorative title page and maps are in Latin or German. Maps hand colored and lavishly illustrated. "Johann Babtiste Homann (1664-1724), Nuremberg, was born in...
In these Flags of nations 1716, could say that this was the ponorama in Asia, before that important date 1812.
Then ,
1812 Napoleon and other countries supposedly invade Russia
, but instead of attacking St. Petersburg the Russian capital at that time, it attacks Moscow (Tartary) even it is said that Napoleon and Alexander I were in fact friends.
French invasion of Russia - Wikipedia
SH Archive - Is the American Civil War part of the War of 1812?
SH Archive - 1812 French Invasion of Russia vs. Logistics
SH Archive - Uniforms: Old World Order vs. New World Order
SH Archive - Is Tartaria a Fairy tale?
We see that in the flags of the nations it was in 1865 even this Tartary, right?
And the
crimean war was in 1853 and 1856
, so we have to assume that then there is still the nation of Tartary next to Russia, but according to official history the conflict faced the Russian Empire and the Kingdom of Greece against a league formed by the Ottoman Empire, France, the United Kingdom and the Kingdom of Sardinia.
Crimean War - Wikipedia
I think this map could give us a rough overview of Asia, from Napoleon's invasion of Tartary.
1789 Bonne, Rigobert
What if it was all one all against Tartary, look how it took them a whole year to take Sevastopol, Crimea. Something similar to what happened in
the Boxer rebellion 1898.
SH Archive - 1899-1901: Boxer Rebellion. What are they hiding?
It was practically the Qing dynasty (China Tartara) against the world and it took those 11 countries a whole year to defeat them. It can be said that it was the last bastion of this Tartara nation.
According to wiki:
After the war in Crimea, they abandoned the Tatars to their fate and were left at the mercy of the Russian authorities.
Their harassment caused some 200,000 of them to emigrate to the Ottoman Empire between 1856 and 1863. At the same time, Orthodox Christians from Buchac settled on the peninsula and some Armenians from Anatolia moved to Transcaucasia. In the Caucasus the Russians continued to fight Shamil, whom both the Western European and Ottoman powers had abandoned; finally surrendered to General Aleksandr Bariátinski on August 25, 1859. The Russians then undertook the expulsion of the Circassians and other Muslim peoples from the area, which involved the march of more than a million people to Ottoman territory .
Crimean War - Wikipedia
As you see this war followed by the
Circassian genocide
, is the story really like the official story says?
SH Archive - The Circassian Genocide and the American Civil War.
It's like all these wars were actually against Tartary
Even take a look at Anatoly Fomenko's chronology:
SH Archive - Pardon me, but I have a few humble questions about Tartaria

​
Last edited: